Picture 1 - meat is cut into cubes
Beef Loc Lac is still one of my many favorite beef dishes. It is easy to prepare, cook and I can guarantee that taste is delicious.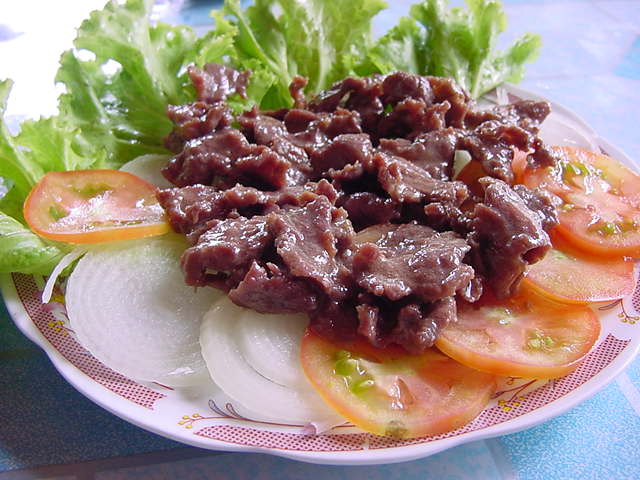 Picture 2 - meat is thinly sliced
Subject to your liking, you can either cut the beef into evenly cube size or thinly slice them. For me, I prefer slicing meat instead - easy to marinate and cook as well (Pictures 1 & 2 above)
Picture 3
I don't actually prefer any type of meat used for this kind of dish simply because the meat will be cooking in less than about 5 minutes. Some of my friends prefer to have more fat in it - the same type of beef used in Korean BBQ (Picture 4).
Picture 4 - type of meat used in Korean BBQ
Meat - subject to your liking
I mix and ground my own spices or you can opt for the ready made Chinese Five-Spice powder.
1 tablespoon of funnel seeds
1 teaspoon of cinnamon powder
1 tablespoon of coriander seeds
1 table spoon of mild or sweet paprika (optional)
1 tablespoon of low salt soy sauce
1 tablespoon of hoisin sauce
1 table spoon of oyster sauce
I would normally coat the meats with spices and sauces (with 1/2 tablespoon of flour - option) and leave it aside for at least 10 minutes to marinate.
For a regular family meal - Cook for 1-2 minutes until the beef is charred but still pink in the center (beef cubes only).
For a large family meal - Cook a small batch at a time to ensure the beef is charred
.
សាច់គោឡុកឡាក់ (Beef Loc Lac)